Selecting a cloud backup service is often an incredibly challenging task. Today, there are numerous vendors to consider. And each of them has its benefits and drawbacks to weigh against the delivered value. But one thing remains non-negotiable: your business requires an efficient backup service.
So what is a backup service, and how to choose the best one for your organization? Below, you can find the answers to these questions.
What Is a Backup Service?
Backup as a service has a critical objective to secure your information. Many backup services are automated. It means that after setting your preferences, the relevant process will run in the background with no intervention from you. At the same time, you may also start manual backups. But most organizations prefer the automation system for saving time and effort. That also allows focusing on other operations.
In addition, using backup services enables companies to ensure their information is safe, secure, and protected from various potential threats. These may include corruption or disaster. The appropriate backup service stores data offsite in the cloud. Thus, you can access it via the internet and gain the opportunity to restore necessary files or the whole system.
How Do Backup Services Work?
A data backup service is a software installed onto your devices, computers, and networks. Depending on the capabilities of the chosen backup service and your requirements, the application makes a copy of your data. The process of copying involves set intervals, traditionally every 24 hours. Besides, backup services encrypt copies before sending them to the cloud using the internet. After all, cybersecurity cloud computing allows storing such copies securely until they become necessary.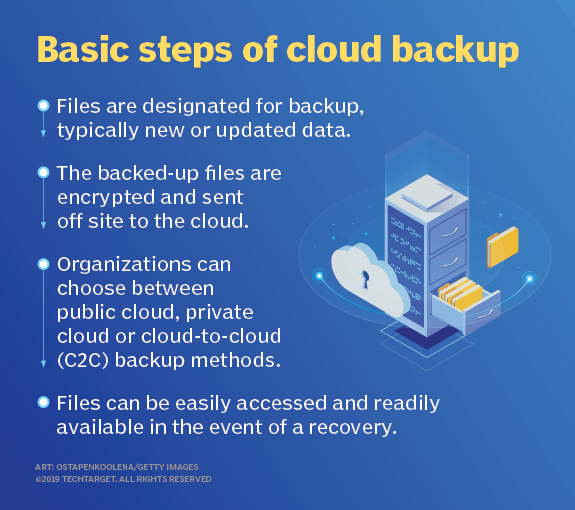 How cloud backups work
So how to backup QuickBooks Online, along with other popular SaaS applications? In many cases, you can establish an online backup for backing up incrementally. It means sending the only information that has been modified after the last backup. The particular approach allows saving on cloud storage and reducing the time necessary for completing backups. That also makes restoring your information much easier.
Benefits and Setbacks of Backup Services
Pros of backup services
An efficient backup service offers multiple advantages to both organizations and individuals. For example, among the most significant benefits of backup services is providing reliable insurance against different information disasters.
Of course, data loss occurs frequently, but it is not often the result of relevant malicious intents. After all, human errors take the leading position in major causes of information loss. Industry experts believe that most data breaches are provoked by a human factor.
But there are many other causes of data loss, including malware such as ransomware or uploading a corrupted CSC file. Also, such causes may cover incompatible and buggy third-party applications, device loss, theft, or even vandalism. Finally, there may be disasters beyond people's control, including fires, floods, power outages, and extreme weather.
On the other hand, backup services allow restoring your documents, folders, and even systems quickly after the mentioned disasters. Moreover, they help save time since they automate processes. Also, because you store your information in the cloud, you can access it anywhere with an internet connection.
Organizations rely on backup services to ensure their continuity and avoid costly downtime. Thanks to cloud backup services, they can get back up and run quickly, despite what may happen. Therefore, these companies can maintain employee productivity, along with a strong brand image. That is a critical ability when providing clients with peace of mind.
Drawbacks of Backup Services
The appropriate backup service requires high internet speed for obtaining your information. Thus, when any network issue occurs, you cannot access your files and folders. So you need to ensure you have good internet connectivity that will allow completing the procedure smoothly, with no interruptions.
Although the idea to backup your data on an external server is a perfect option, it may become a setback. If something goes wrong with a relevant server, your information will exactly be lost. In addition, there can also be cases of information blending with other companies. Therefore, you should do some homework on your side and select a trusted and professional cloud service provider. That will provide you with high-quality security and contending services. After all, this factor is significant since you will share all your private information.
Many backup service providers offer unlimited bandwidth. However, some other vendors provide limited allowance and charge customers additional costs in case of surpassing allotment. Thus, it is a critical matter of concern for organizations. They need to ensure their bandwidth allowance from a chosen serving provider when opting for cloud storage.
8 Things to Look for in a Backup Service
The most efficient online backup services have several standard features. Meanwhile, some of them can even address the unique requirements of specific industries, including eCommerce, finance, and software development.
So what is the most important when you select a backup system?
1. User-friendly
Select a data backup service that is easy to use even for non-technical people in your company. And in the case of disasters, the restoring process should be pretty straightforward. So you could get back to operations quickly.
2. Flexible scheduling
Flexibility is crucial since your needs can change depending on the company's growth. Thus, your data backup solution must enable you to schedule backups using your terms. Also, it must provide top-quality flexibility.
Organizations that process large volumes of data, such as financial institutions and eCommerce sites, require constant backups. Instead, a consultancy that runs a smaller amount of data may need to back up their information daily or weekly. Meanwhile, some other companies may want to perform the backup process manually.
3. Know what it can (and cannot) back up
Your organization may produce many various types of information, including meta fields and file structures. Therefore, you need to know what it can and cannot back up when selecting a backup service. For instance, the numerous eCommerce APIs do not provide third-party access to some types of sensitive information. Such information may include clients' passwords.
In addition, you can request technical specifications from different backup services you consider during your research. If they cannot provide detailed information, you should probably continue your search.
4. Data security
Using the latest data security and encryption solutions is a significant advantage of online backup services. But you should always learn how a chosen provider protects your information and where it is stored.
5. Monthly cost
Online backup solutions serve as subscription-based SaaS. It means that customers will pay a monthly fee for using a relevant service. However, you should not select the cheapest option. Instead, you need to consider the available features and weigh them against the prices.
6. Storage costs
Among the critical issues regarding backup storage are the size of data backups and the time required for storing them. Thus, if you process large volumes of information, your backup storage requirements may increase the cost of using backup services. So you must select a backup service, along with a storage plan, that will meet your budget. Also, you should pay attention to the existing data limits provided by your pricing tier.
7. Scalability
Often, the company's growth may happen quickly. But if you have prepared appropriately, you will usually come out ahead. Next, you need to select an online backup solution that will grow with you. It means that your data backup service must be able to scale if required automatically.
8. Regulatory compliance
Current data privacy regulation, including GDPR, defines how and where information is stored stringently. Therefore, you are responsible for knowing that your potential third-party vendors comply. It means that you should select a cloud storage provider who has complete knowledge of appropriate regulatory compliance.
Recap
Backup service for SaaS apps allows maintaining, accessing, and restoring your backup information efficiently. It can satisfy the requirements of any modern business, including iterations specifically designed for well-known SaaS applications such as QuickBooks Online backups, Shopify, Trello, and others.
Thus, choosing a backup service provider plays a crucial role in providing the company's continuity and recovery from disasters. In this case, you should be incredibly careful when considering critical information that drives your organization.